Panasonic Energy produces at local green factories, packs and delivers smartly and works ecologically
12 November 2020, Zellik - For over 35 years, Panasonic Energy has been working towards sustainability. Today, we can present an important range of ecological achievements in Europe, including green factories, recycled packaging, local production and smart logistics. Discover how Panasonic is a sustainable partner for your battery energy.
Environmental pollution is what European FMCG consumers are most concerned about. Climate change comes in 4th place, after pandemics and having enough money¹. This societal focus on the environment is obvious as well as important, given the absolute urgency of tackling climate change. At Panasonic Energy, we hear distributors' and clients' concerns. And we respond with more efficient, more sustainable energy.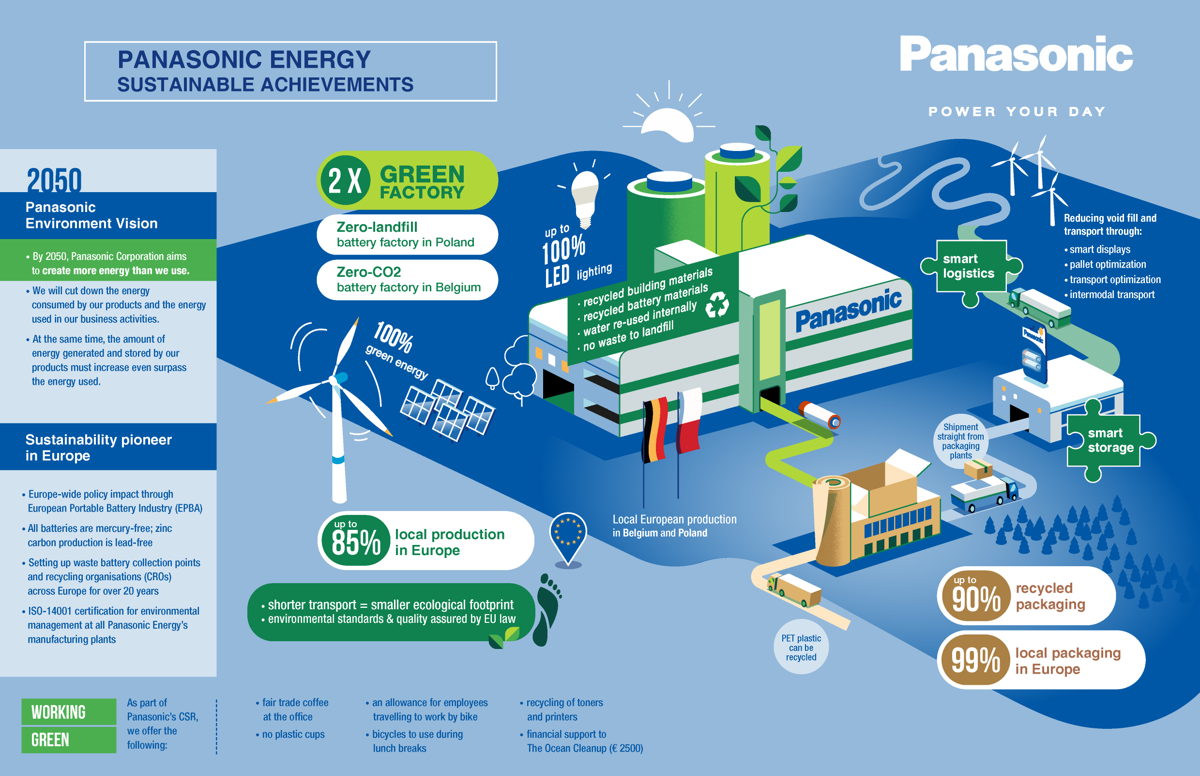 Sustainability pioneer in Europe
Panasonic Energy Europe has been a sustainability pioneer for over 35 years. Since 1985, we have been reducing hazardous substances in batteries. This was a first in the industry. Now, all our products are mercury-free and zinc carbon battery production is lead-free. For over 20 years, we have been instrumental in setting up waste battery collection points and recycling organisations (CROs) across Europe. As a prominent member of the European Portable Battery Industry (EPBA) we positively impacted battery collection and recycling throughout the region. And last but not least, all Panasonic Energy's manufacturing plants have the ISO-14001 certification for environmental management, for over 20 years now.
Green achievements today
Thanks to this decade-long focus, Panasonic Energy can present an important range of sustainable achievements today:
1. Our battery factories in Europe are green
Both our local production and packaging sites in Europe are sustainable factories. In January 2019, Panasonic Energy Belgium N.V. (Tessenderlo) became Panasonic's first Zero-CO2 battery factory in the world. It uses 100% renewable energy sources; recycles processed water and re-uses it internally; no waste goes to landfill; the buildings include recycled materials; and lighting is provided by LEDs. Our second European production site in Poland (Gniezno) is a Zero-landfill factory. It uses 100% green electricity and Panasonic's latest sustainable technologies for a highly automated process to produce clean energy batteries that include recycled materials.
2. Local production
Up to 85% of Panasonic Energy products sold in Europe are produced locally at the Belgian and Polish plants. This enables shorter transport routes and more efficient waste management, resulting in a smaller ecological footprint. Local production also benefits working conditions and social management. Moreover, EU law assures environmental standards and quality.
3. Smart packaging & logistics
We use sustainable materials to pack Panasonic Energy products. Cardboard battery packs are made of 90% recycled materials and the PET plastic used can be recycled.
99% of products produced in Europe are packed locally too. We place production and packaging in the same countries and ship products to distributors straight from the packaging plants, all assuring short transportation routes. Packing in Europe assures safety and sustainability under EU law.
We don't just lessen kilometres spent in transport. We reduce void fill through smart displays and pallet optimisation. The principle is simple, but requires thorough optimisation: less void, means less space, means fewer trucks and a smaller impact on the environment.
Intermodal transport is used for European supply of raw materials to the factories: first we try to use ships, only then followed by rail and trucks.
4. Working green
Being green is not just about production, packaging and logistics. It's about our employees too. As part of our CSR programme, Panasonic Energy Europe promotes a sustainable mindset and actions inside and outside the office. For example: fair-trade coffee is served and plastic cups are banned; employees are encouraged to travel to work by bike and offered an allowance; bicycles are available to use during lunch breaks; we recycle toners and printers; we've contributed to The Ocean Cleanup (€ 2500) and created awareness around this with staff.
Panasonic Environment Vision 2050
By 2050, Panasonic Corporation aims to create more energy than it uses.
We will cut down the energy consumed by our products and the energy used in our business activities. At the same time, the amount of energy generated and stored by our products must increase and even surpass the energy used.
Only in this way, will we be able to assure sustainability in a globalising world with a growing population and ever-increasing energy demands. Watch this video to find out more about the Panasonic Environment Vision 2050:
---
¹'FMCG outlook. How to navigate ahead of the new normal', GfK, June 16th 2020.
---